Media That Matters: Extended Registration

Future of Public Media at ICA Preconference
Master Class with Entertainment Lawyer
Free Screening:"Me Facing Life"
CSM on SXSW Panels
CSM at National Conference for Media Reform
Future of Public Media
Public Media 2.0 Showcase
Welcome, Current!
Brazillian Public Media Faces Tough Digital Transition
International Broadcasting, Public Media and the News Deficit
Fair Use and Copyright
Poets Seize Fair Use Rights
Fair Use in Academic and Research Libraries
Fair Use Question of the Month
Fair Use Teaching Tools
Critical Commons Fair Use Example

Sundance 2011: Documentaries that Challenge
PUMA.Creative Impact Award
Independent Filmmakers Learn from PR Professionals
"Out in the Silence" Screenings
CEF/FCC Spring Film Series
"Pushing the Elephant" in Washington, D.C.
Free Screening: "The Human Spark"
NBPC Launches Interactive Haiti project.
ACME National Conference
Reel Journalism: March 1
Advocacy Journalism Conference: March 1
The Center for Social Media    
-helping people make media that matters

We investigate, showcase and set standards for socially engaged media-making. We organize conferences and convenings, publish research, create codes of best practices, and incubate media strategies.

We are a part of American University's School of Communication.
| | |
| --- | --- |
| E-Newsletter | February 2011 |
From the Director:
I am looking forward to seeing you at Media That Matters 2011, in just a few days! It's always both a conference and an inspiration to me, an opportunity to see the passion and commitment of our community. I'm also happy to celebrate with you the release of the latest code of best practices in fair use ; poets have now seized their fair use rights, making clear what is appropriate, and not appropriate in the creation of this literary form.
See you soon!

Pat Aufderheide
Upcoming Events
Registration Extended for Media That Matters 2011
Good news! If you haven't already registered for Media that Matters 2011 registration has been extended to the end of the week!
This year's conference features panels on producing media across platforms, ethical dilemmas in environmental and wildlife filmmaking, collaboration in filmmaking, and innovations in radio storytelling.
Register now
to reserve your spot!
The Future of Public Media: Participatory Models, Global Networks
Registration is now open for this International Communications Association preconference, coordinated by the Center for Social Media in conjunction with the organizers of the RIPE conference. On
Thursday, May 26
from 1-5pm at Boston's Westin Waterfront Hotel, the half-day convening aims to strengthen comparative research networks to examine rising models for public media 2.0 around the world.
Register here
(check box #P13), and join the conference facilitators and other attendees
Master Class with Entertainment Lawyer Michael Donaldson
Room 607 - JD Student Lounge, Washington College of Law 4910 Massachusetts Ave NW
The Center co-sponsors an illustrated talk about copyright clearance and fair use in documentary and independent film with Michael Donaldson on
February 2  
at
12pm
.  Mr. Donaldson serves as General Counsel to Film Independent (home of the Independent Spirit Awards) and the Writers Guild Foundation. He is the industry's go-to attorney for fair use and other clearance- and rights-related issues.   Please register
here
(Lunch will be served).


Free Screening: "Me Facing Life"
The Center joins ITVS Community Cinema, WHUT, and local community partners in presenting a free preview of "
Me Facing Life: Cyntoia's Story
", a hard-edged look into the troubled life of Nashville's Cyntoia Brown, a young woman tried as a juvenile and currently serving a life sentence for a murder she committed at age 16. Filmmaker
Daniel H. Birman
joins the discussion after the film.
Saturday,
February 12
at 5pm, Busboys and Poets, 2021 14th Street, NW
Sunday,
February 13
at 3pm, Washington DC Jewish Community Center, 1529 16th Street, NW
Reservations recommended: E-mail
mfl@communitycinema-dc.org or call 202-939-0794
CSM on SXSW Panels
At the S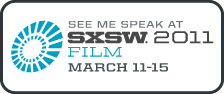 outh 
by S
outhwest (SXSW) Film Festival in
mid-March
, the Center for Social Media (CSM) will be on the scene. Pat Aufderheide will speak on copyright and fair use, on a panel about music in a digital era. Larry Engel, who co-created the
Code of Best Practices in Sustainable Filmmaking
will talk on how sustainable filmmaking can save you money, on a panel and workshop on greening pr
oductions, and Jessica Clark will moderate a panel on rising trends in public media.
CSM at  2011 National Conference for Media Reform (NCMR)
From
April 8-10, 2011
, activists, media makers, educators, journalists, policymakers and people from across the country will gather in
Boston
for the
National Conference for Media Reform
, which brings together thousands of people devoted to better media and a better democracy. CSM will be a conference exhibitor, plus
don't miss Center Director Patricia Aufderheide, who will present on  fair use issues, and Research Director Jessica Clark, who will moderate a panel on public media innovators.
Register today
for the best rates
.
More...
Future of Public Media
Public Media 2.0 Showcase
In this month's
Public Media Showcase
, Katie Donnelly gives an overview of
public media 2.0 in 2010 and lays the groundwork for the Showcase in 2011
. Katie also
reviews Dan Gillmor's new book,
Mediactive
, which covers many of the same issues we've been examining here at the Center for Social Media.
Welcome,
Current!
It's official: American University's School of Communication is now the home of
Current,
the newspaper dedicated to covering the public broadcasting sector. Here at CSM, we're excited to welcome the publication, which is poised to become a key resource for reporters and policymakers as debates about whether to slash funding for public broadcasting heat up in Congress.
More...

Brazilian Public Media Faces Tough Digital Transition
Future of Public Media Project director, Jessica Clark, was invited to speak at Brazil's
TV Pública
conference, which examined the transition of the country's public media system from analog to digital. Read her blog on the state of public media in Brazil.
More....
International Broadcasting, Public Media, and the News Deficit
On December 8, The New America Foundation hosted a half-day event titled
International Broadcasting, Public Media, and the News Deficit - Mission and Market Gaps
, co-organized by CSM Research Fellow Ellen Goodman. CSM's Shilpi Singh rounds up some of the highlights.
More...
Poets Seize Their Fair Use Rights
Poets have now created a code of best practices in fair use, to help them exercise their fair use rights. They did it with help from CSM, the Poetry Foundation, the Washington College of Law and the University of California, Berkeley School of Law. More...


Challenges in Employing Fair Use in Academic and Research Libraries
The Center for Social Media, the Program on Information Justice and Intellectual Property, and the Association of Research Libraries (ARL) released on Dec. 15, 2010 Challenges in Employing Fair Use in Academic and Research Libraries, which shows how librarians struggle to meet the missions of U.S. academic and research libraries, interpreting fair use and other copyright exemptions. More...


Fair Use Question of the Month
In this Fair Use Question of the Month, a journalist has a question about whether or not his friend's "ten percent" rule is correct when it comes to quoting copyrighted work in his weekly podcast. More...


Critical Commons Fair Use Example: Television Style
The academic website Critical Commons showcases the importance of fair use for media studies scholars. For over thirty years, TV and film scholar Jeremy Butler has been analyzing the form and meaning of style, ranging from television commercials and soaps to big budget dramas and theatrical releases. Now, Butler has begun to expand his fair use rights into a public arena, supplementing the online companions to his books Television Style and Television: Critical Methods and Applications with clips posted publicly on Critical Commons. Specifically, he offers stylistic analyses of TV shows including Grey's Anatomy, Homicide, CSI, Damages, America's Funniest Home Videos and The Soprano. More...






Making Your Media Matter




Sundance 2011: Documentaries that Challenge
Sundance 2011 documentaries are about challenging audiences. They challenge your connection with the world, challenge your tolerance for forgiveness, challenge your perceptions of women. I was lucky enough to spend several days exploring the stories in competition at the festival and their messages to audiences. More...


Center to Help Select PUMA.Creative Impact Award Winner
Center Director Patricia Aufderheide will sit on a selection committee for the the PUMA.Creative Impact Award, a major new annual international award to honour the documentary film creating the most significant social impact in the last year, presented by Channel 4 BRITDOC Foundation and PUMA. The winning film will receive a €50,000 prize to acknowledge the filmmakers and to help the continuation of the film's campaign. Learn more and enter your film.



Independent Filmmakers Learn from PR Professionals
While independent filmmakers have been turning to the Internet to promote their films for years, as social networks grow and platforms become saturated with users, they are facing new challenges in getting the word out and engaging viewers. I recently attended a Public Relations Society of America workshop focused on "Writing for Social Media" in the hopes of learning from the pros some to help filmmakers navigate the social media landscape for promotion and outreach. More...



Other News


"Out in the Silence" Screenings


How is the bullying of a gay teen in a small town in Pennsylvania related to the brutal murder of LGBT activist David Kato in Uganda? Come and find out how these events are connected, and what you can do to help, at the opening night screening of "Out in the Silence" at the Washington DC Human Rights Watch International Film Festival on

February 2.

 

Click here

to purchase tickets. The film will also be featured at the

 

2011 Media That Matters Conference

on

February 11

as part of a panel on collaboration, featuring the film's director, Dean Hammer.

Conference agenda.



CEF/ FFC 6th Annual Spring Film Series
This month, Media That Matters 2011 presenter, Chris Palmer, and Justine Schmidt will host
the Center for Environmental Filmmaking (CEF) and Filmmakers for Conservation (FFC) 2011 Spring Film Series. The first event of the series -- clip screenings and discussion with David Hamlin, producer of National Geographic Society's landmark series Great Migrations on February 7. The series will continue in March as part of the Environmental Film Festival in the Nation's Capital. Events are free and open to the public. Full schedule and more...

"Pushing the Elephant" is coming to Washington, D.C.!

Please join Arts Engine for a screening of "Pushing the Elephant" at the Human Rights Watch Film Festival,

Wednesday, February 9

and 7pm at

West End Cinema

. The film tells the story of Rose Mapendo, who lost her family and home to the ethnic violence that engulfed the Democratic Republic of Congo and yet emerged from the suffering advocating peace and reconciliation.  After helping numerous survivors rebuild their lives, there is one person Rose must still teach to forgive - her daughter Nangabire.

More...


Free Screening"The Human Spark"
Thursday Feb. 17 at 7:30 p.m.; Wechsler Theater
Professor Larry Engel  of American University's School of Communication will show a segment of his PBS film "The Human Spark" followed by discussion on the teaching of evolution. Engel's film will receive the 2010 Kavli Science Award for in-depth journalism at the American Association for the Advancement of Science on Feb. 18.



NBPC Launches Intreractive Haiti Project
From January 12th through April 2011 the National Black Programming Consortium will be premiering new short videos, direct Haitian perspectives on loss and recovery after the devastating earthquake of 2010. The interactive portal includes monthly live web screenings featuring Haitian artists, academics, and cultural critics discussing issues relevant to the Diaspora, and the recuperation of all Haitians. More...



Action Coalition For Media Education (ACME) National Conference
April 7, Boston, M.A.
Registration deadline is Feb 18. Register here. Over 30 presenters at 25 sessions (session titles below). Conference description.



Reel Journalism: March 1
Dan Rather is the featured guest at the next Reel Journalism coming up on March 1 at 6:30pm at the Newseum's Annenberg Theater.  "The Insider" is the featured film.  Nick Clooney is the moderator. More...



Advocacy Journalism Conference: March 1
The Newseum, in association with the American University School of Communication and the Ford Foundation, will cosponsor a daylong conference March 1, 2011, that explores the rise in advocacy journalism in mass communication. More....